Gerald Nestler
---
---
---
---
---
Sensing Nature
Artistic Positions between Nature and Culture.
Group show curated by Mathias Kessler and Heike Strelow
featuring FEED. 8 cinematic performances by Eckermann & Nestler.
With works by Regula Dettwiler, Mark Dion, Sylvia Eckermann / Gerald Nestler, Irene Grau, Michael Höpfner, Raphael Lyon, Bradford Kessler, Mathias Kessler, Lisa Oppenheim, Trevor Paglen, Chrysanne Stathacos, George Steinmann, Lois Weinberger.
Heike Strelow Gallery, Frankfurt am Main.
May 14 - July, 2021


---
Alles hat Grenzen NUR DER MONDFISCH NICHT
An environmental film musical by Sylvia Eckermann and Gerald Nestler.
2k, 30 min., 2021

Film score: Volkmar Klien. Voice: Anna Mendelsohn. Edited by: Madlen Sieghartsleitner. Colorist: Daniel Hollerweger. Sound design: Szely. Re-recording mixer: Georg Mittermayr. Ötschergräben, Austria – vocal ensemble: Christine Gnigler, Joachim Rigler, Lorina Vallaster; Hip Hop artist: Soulcat E-Phife; beatboxing: Geo Popoff; performances: Martha Laschkolnig; stunting: Christian Fiedler; supporting role: Bela Eckermann. Assistant director: Alex Weber; DoP: Alois Kozar; 2nd camera: Johanna Auer; camera assistant: Anna Wäger; drone pilots: Florian Blang, Luka Janitschek; location sound recordist: Andreas Hamza; lighting: Tom Barcal, Georg Roppatsch; production assistance: Fina Esslinger, Laura Eichenseer, Martin Fricker. Naqab desert, Israel – Aziz Al-Turi, activist and speaker of the unrecognized Arab Bedouin village of Al-Araqib; filmed by Deiaa Haj Yahia and Raafat Abo Aiash. Lake Tyrrell, Australia – Neil Fettling, artist; filmed by Simon Jackson. Bejing, China – Qiu Zhijie, artist (filmed by Eckermann and Nestler for their 3-channel video Breathe My Air, 2008-2011).

Synopsis
"Alles hat Grenzen, NUR DER MONDFISCH NICHT" is an environmental film musical, in which nature acts and speaks in a diversity of voices. Surfacing evocatively from micro- and macrocosmic layers, she resonates with water as the source of life and resounds as exploited resource. She echoes from the trenches of an inverted world and speaks out as a human being. Reverberating through ecological-cultural depths, images, sounds and associations push to light, giving shape to a vision of humanity being in tune with nature.

Trailer

---
FEED
8 cinematic performances
A public art project by Sylvia Eckermann and Gerald Nestler, 2020 .
FEED was inaugurated as the cinematic parcours of the art intervention Cliffhanger by Steinbrener/Dempf & Huber.
The films can be watched online and on the filming locations during a hike through the Ötschergräben in Lower Austria.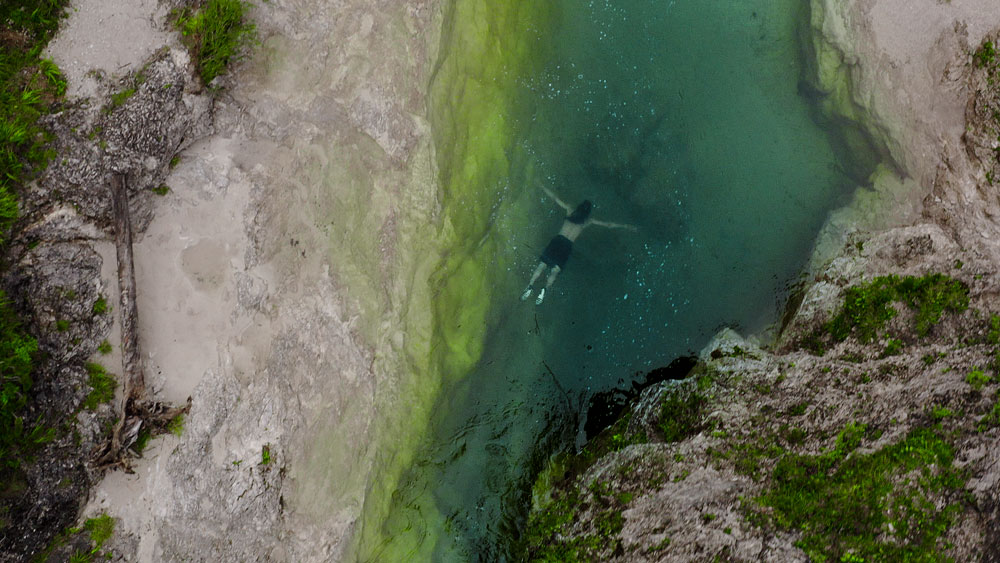 ---
---
Premierentage Innsbruck
Presentation of the ice sculpture Love in the 21st Century in the garden of The Klocker Foundation.
(postponed to autumn 2021 due to the Corona crisis)

---
PREVIOUS (selection)
---
---
---
Private Viewing 08
Toni Kleinlercher and Gerald Nestler, October 10 - 17, 2020.
Private Viewing is a series for which Toni Kleinlercher invites artists, poets and writers to exhibit with him at his Vienna studio.
---
---
---
The Spectrality of Future in Finance
Gerald Nestler in conversation with Daniel Hüttler and Zsolt Miklósvölgyi
Video-Podcast in the context of Leaning on the Past, Working for the Future,
an online program/exhibition curated by Krisztina Hunya, Zsolt Miklósvölgyi, Márió Z. Nemes
at Kunsthalle Exnergasse, Vienna, June 4 - July 17, 2020.
Artists: János Brückner, Igor & Ivan Buharov mit Vasile Croat, Sylvia Eckermann & Gerald Nestler,
Mark Fridvalszki, Szabolcs KissPál, Land 3C (Tomas Narkevicius, Gorazd Popov, Vitalij Puzyriov
and Vaida Stepanovaite), Márió Z. Nemes, Dominika Trapp, Suzanne Treister.


---
---
---
---
---
---
---
---
---
---
---
---
---
---
---
---
---
---
---
---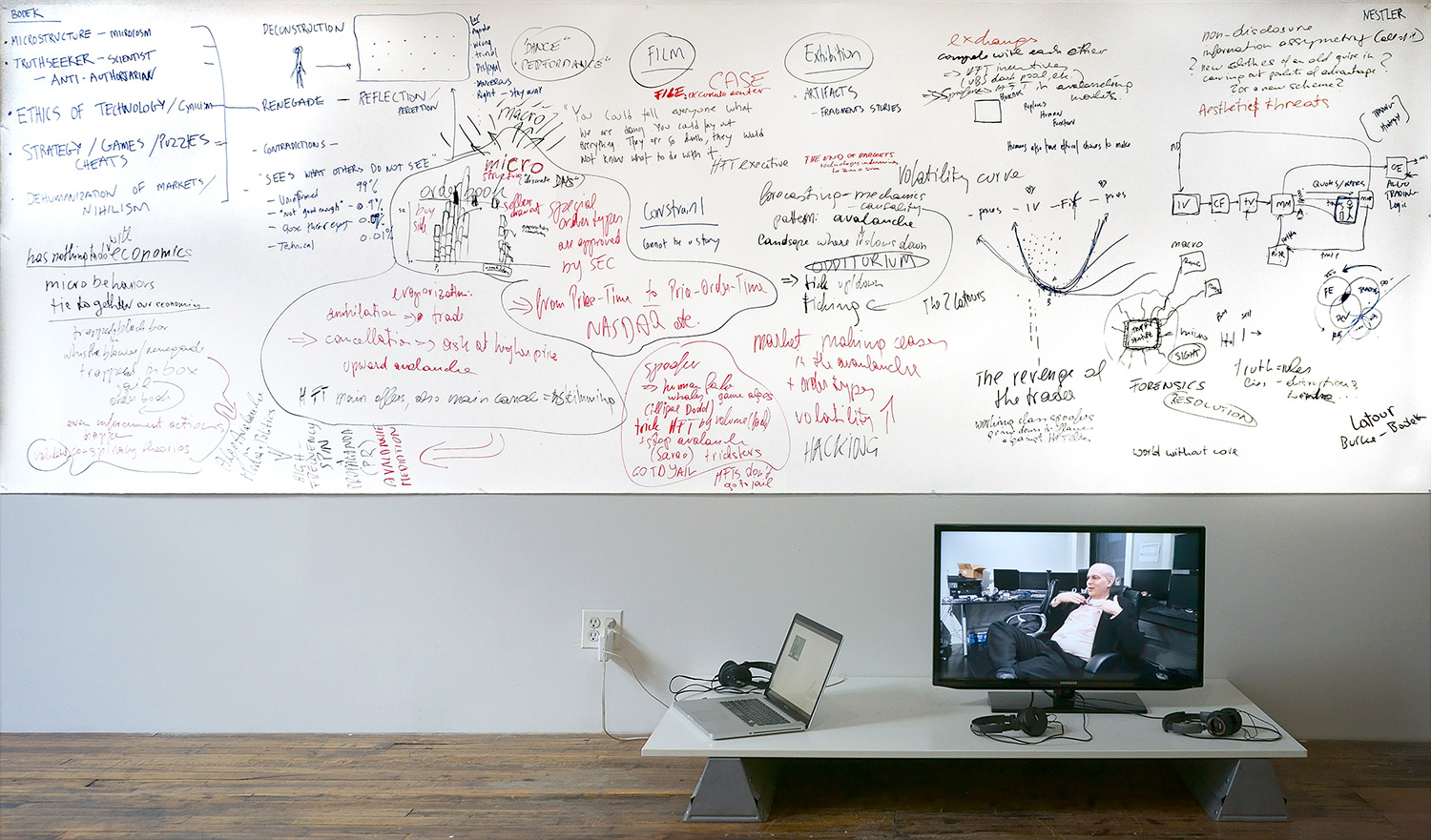 The large sheet in the background is a result of INSTANTERNITY, an algorithmic finance mapping project carried out by Gerald Nestler and Haim Bodek from October 2016 to January 2017. The video on the right features Haim and is entitled CONTINGENT CLAIM. Portrait of a Philosophy II (2014). The video on the right is COUNTERING CAPITULATION, which was co-produced by the Haus der Kulturen der Welt, Berlin, for the exhibition FORENSIS, 2014.
Photo: Sylvia Eckermann
---
---
---
---
---
---
---
---
---
---
---
---
---
---
---
---
---
---
---
---
---
---
---
---