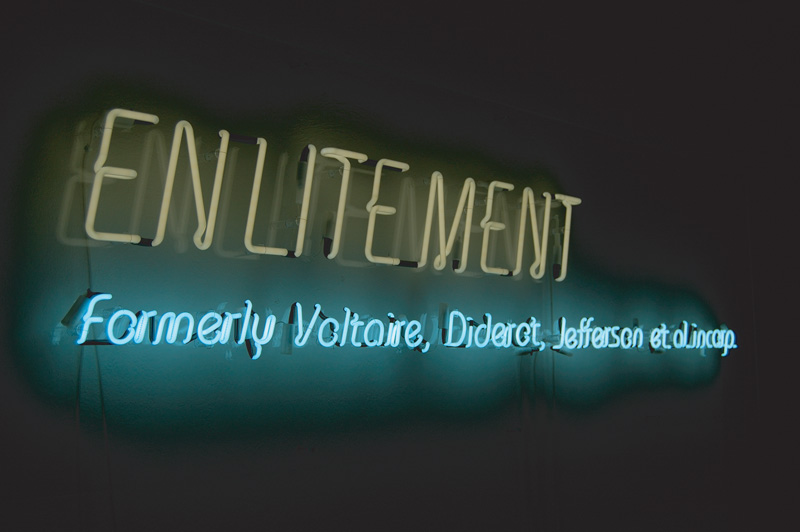 Reader and artist book,
Schlebruegge.Editors, 2007
Catalogue ed. w. Sylvia Eckermann
and MKL | Kunsthaus Graz, 2010
Selected projects 2012-2014,
Broschure, 2014
CURRENT + UPCOMING




THE FUTURE OF DEMONSTRATION
Art series that engages with the transformation towards post-global ecologies and societies
by exploring the notion of demonstration and its technological, political, pedagogical and
aesthetic capacities.


Season 1 | 2017 VERMÖGEN
October 31 - November 11, 2017
Venue: REAKTOR, Vienna

Season 2 | 2018 PASSION
November 2018

Idea, concept and format: Sylvia Eckermann and Gerald Nestler
Artistic directors: Sylvia Eckermann, Gerald Nestler, Maximilian Thoman
Website >>



Volatility Working Group
A research project by the New School for Social Reseach and the New York University
that explores the social, cultural, financial, and political implications of volatility.


Das ABC der Finanzwelt
OE1 Radiokolleg series on finance, 2015-2017
Austrian Broadcasting Corporation radio series on the world of finance (in German)
link to archive >>





PREVIOUS (selection)

1948 Unbound. Unleashing the technical present
Bit registers: Switches, Seeds, Hydrocarbons, Tokens, Chance
Research, conversations, performative elements

Switches was co-curated by Gerald Nestler with HKW (Katrin Klingan, Nicholas Houde, Janek Müller, Christoph Rosol)
The research project Technosphere 2015-2019 is part of 100 Years of Now.

Haus der Kulturen der Welt, Berlin
November 30 – December 2, 2017
1948 Unbound Website >>
1948 Unbound documentation >>



Technopolitics @ Patchlab Digital Art Festival
TECHNOPOLITICS presents Tracing Information Society – a Timeline (v.4 Hong Kong)

6. Patchlab Festival International Digital Art Festival, Krakow, Poland, October 24 - 29 2017
This year's edition is dedicated to data art and artificial intelligence (AI), designs using extraordinary material – big data bases, which have an increasing impact on our life and the whole society. Data has become a construction material for sophisticated art forms and a basis for philosophical reflection. The exhibition will take place in Malopolski Ogród Sztuki and at Galeria Bunkier Sztuki. The festival will present artists from Poland, Germany, Austria, France, Greece, Italy, Belgium, Denmark, Iran, Japan and Taiwan.

Techopolitics is represented in Krakow by Doron Goldfarb and Ina Zwerger.

ENTROPY - ROADSIDE AREA
ARS ELECTRONICA festival >>
September 7 - 11, 2017, Linz, Austria

The ENTROPY project is a coproduction of NOMAD.theatre in cooperation with
MTTW, Tanzquartier Wien, MEDIA OPERA Wien, brut and ZENTRALWERK Dresden


TECHNOPOLITICS @ CONNECTING SPACES
Workshops with experts. lectures and exhibition on the Tracing Information Society project
Connecting Space, Hong Kong
Public presentation June 23, 2017
June 20 - July 1, 2017
In collaboration with Zurich University of the Arts and Connecting Spaces.



INSTANTERNITY – A Black Box Body Cult
A performative cartography of automated finance
In collaboration with Haim Bodek (financial expert and whistleblower), Sylvia Eckermann (artist)
and Davide De Lillis, Eva Müller, and Sebastian Collado (performing artists).

VORBRENNER 17. Laboratory for experimental and interdisciplinary art projects.
April 6, 2017, Freies Theater Innsbruck.
Vorbrenner fb >>
Vorbrenner web >>

: New Paradigms
Panel discussion at "ever elusive" - 30 years of transmediale
Feb 2-5, 2017
HKW – Haus der Kulturen der Welt, Berlin
transmediale >>

Neue Gesellschaft für Bildende Kunst (nGbK)
Jan 26-Feb 5, 2017
nGbK >>
Technopolitics >>
Project documentation >>

Finance and Society vol. 2, no. 1, special issue on art and finance
LAUNCH EVENTS
P! 334 Broome Street, New York, NY 10002
January 25, 2017
Goldsmiths, University of London
February 7, 2017

Issue edited by Suhail Malik and Gerald Nestler
Interview by the editors with Clare McAndrew
Research articles by Laura Lotti, Emily Rosamond
Essays by Victoria Ivanova and Christopher Wood, Alasdair King, Ruth Catlow, Brett Scott
Artistic statements by Paolo Chirio, Enxuto and Love, UBERMORGEN, Sylvia Eckermann and Gerald Nestler
and Kathleen Ditzig, Robin Lynch, Debbie Ding
Review Forum: Timothy C. Johnson on Elie Ayache and Jon Roffe's latest books; with responses by the authors.

link to the online issue >>
P! >>




INSTANTERNITY – A Cartography of Automated Finance
An evening of discussion on art, finance and resistance.
With artists Sylvia Eckermann, Gerald Nestler and high-frequency trading expert and whistleblower, Haim Bodek

Austrian Cultural Forum New York, 11 East 52nd Street, New York, NY 10022
January 23, 2017, 6:30 - 8 pm
In cooperation with the International Studies and Curatorial Program (ISCP)
International Studies and Curatorial Program (ISCP) >>
Austrian Cultural Forum New York >>
Haim Bodek >>



Residency at the ISCP, New York
August 2016 - January 2017
artist grant, Arts and Culture Division, Austrian Federal Chancellery
link to the ISCP >>
International Studio & Curatorial Program Open Studio >>




group show curated by Letters & Handshakes
Blackwood Gallery at University of Toronto Mississauga
Oct 16-Dec 3, 2016
link >>
catalogue >>



The Politics of Resolution
Talk and discussion in collaboration with Parallax Drift Faculty member Victoria Ivanova
Nov 10, 7pm
ArtCenter/South Florida, Miami Beach
link to ArtCenter/South Florida >>




OPERA of ENTROPY. post-dramatic music theatre
Artistic direction: Thomas J. Jelinek
A coproduction of NOMAD.theatre and Musiktheatertage Wien
World premiere: August 30 & 31, September 4 & 6, 2016, Werk X Vienna
more info >>


Opening: June 21, 19:30 - 23:00 Uhr
21. – 26. Juni 2016
MAK – Austrian Museum of Applied Arts / Contemporary Art
Stubenring 5, 1010 Wien
www.technopolitics.info >>
MAK >>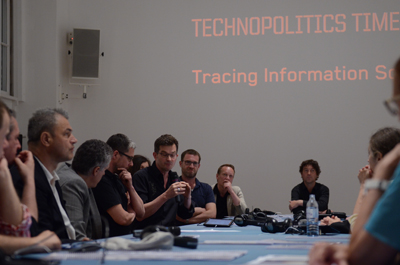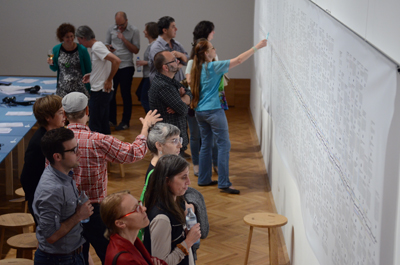 Photos: Andi Diem



The Promise of Total Automation
Kunsthalle Wien, Museumsquartier, Vienna
March 11-May 29, 2016
link to website >>>
download booklet >>>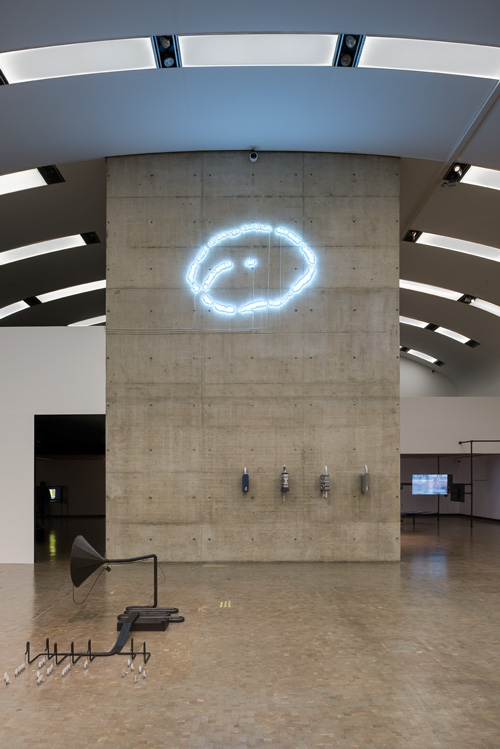 Installation view: The Promise of Total Automation, Kunsthalle Wien 2016, Photo: Jorit Aust
Top: Gerald Nestler; middle: Magali Reus; front: Mark Manders.
SOCIAL GLITCH Radical aesthetics and the consequences of extreme events
link to website >>>
link to catalogue >>>
link to webjournal continent. special issue on SOCIAL GLITCH >>>

An exhibition at the KUNSTRAUM NIEDEROESTERREICH and projects in the public space of Vienna,
at the Buchhandlung Walther Koenig at MuseumsQuartier Wien, and the WUK.
September 25 - December 5, 2015.

Curated by:
Gerald Nestler, Sylvia Eckermann and Maximilian Thoman

Co-curated by:
Bettina Kogler, WUK.performing.arts (performance)
Gerald Straub (workshops & interventions in public space)
Georg Weckwerth, TONSPUR Kunstverein Wien (sound art)

In cooperation with:
TONSPUR Kunstverein Wien, Q21
WUK.performing.arts
continent

SOCIAL GLITCH was a TIM.theories.in.mind and KUNSTRAUM NIEDERÖSTERREICH production.
www.theoriesinmind.net
www.kunstraum.net/en

sponsored by supergood


Making of Finance
edited by Armin Avanessian und Gerald Nestler.
MERVE Verlag, Berlin, 2015.

download INTRODUCTION (in German)

Book launch Berlin: June 5, 2015, Schinkelpavilion. With Armen Avanessian and Elie Ayache.
Book launch Vienna: June 8, 2015 at kunstraum BERNSTEINER. Ina Zwerger (Ö1 Radiokolleg) in conversation with
Elie Ayache (finance expert and philosopher), Armin Medosch (theoretician and curator) and Gerald Nestler.
kunstraum BERNSTEINER, 1020 Wien, Schiffamtsgasse 11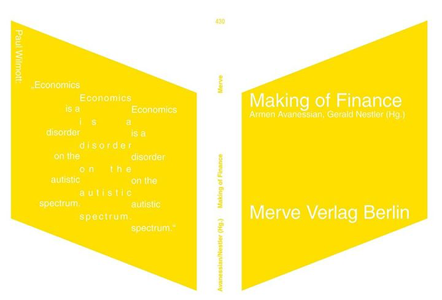 HEDGE AVANTGARDE. renegades, traitors, educators
An Inquiry into an Aesthetics of Resolution

solo show at Kunstraum Bernsteiner, Vienna AT
May 6-June 13, 2015
download infos + pics
Further information and images: >>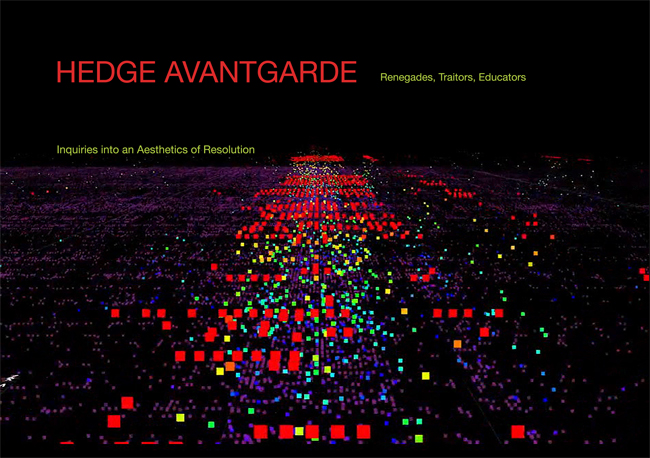 center & peripheries
with Armen Avanessian, curated by Joanna Warsza, artgenève Geneva, 2015




Les Rencontres International. nouveau cinema et art contemporain
Gaité Lyrique, Paris, Dec 1-7, 2014
Haus der Kulturen der Welt, Berlin, June 23-28, 2015




Parallel Vienna
solo presentation by invitation of kunstraum Bernsteiner, Oct 1-5, 2014




refuse the shadow of the past
group show curated by ASAP at the University Museum and Art Gallery, The University of Hongkong, 2014





FORENSIS
group show at Haus der Kulturen der Welt, Berlin >>
curated by Anselm Franke and Eyal Weizmann
A project co-produced by Haus der Kulturen der Welt
and Forensic Architecture, an ERC funded research project
based at Goldsmiths, University of London
March 15 - May 5, 2014

Video link Countering Capitulation >>
text link Mayhem in Mahwah >>

Book publication:
Forensis. The Architecture of Public Truth.
edited by Forensic Architecture
published by Sternberg Press, 2014 >>




GLITCH. Unser Schreibzeug arbeitet mit an unseren Gedanken
Group show at Kunstraum Innsbruck, AT>>
produced by Medien.Kunst.Tirol
May 18 - June 29, 2013
Further information and images: >>




CARRY CARGO CULT
Befrachtetes Reisen im Algotakt
Lecture and video performance with contributions by Tav Falco
Link to video accompaying the performative lecture >>

Further information on the exhibition and events: Kunsthalle Wien webpage >>
WWTBD. What Would Thomas Bernhard Do
May 17 - 26, 2013
Kunsthalle Wien and Wiener Festwochen >>




ON PURPOSE. The New Derivative Order
Solo show at Kunstraum Bernsteiner, Vienna, AT
Opening: Feb. 28, 2012
February 29 - April 14, 2012
Further information on the exhibition and events: Kunstraum Bernsteiner website >>


Kunstgastgeber Gemeindebau 012
Municipal Tenements as hosts for art - Herweghof, Matteottihof, Metzleinstalerhof, Reumannhof
KÖR Kunst in public space Vienna, curated by Gerald Straub, Oct 10 - 19, 2012
KÖR webpage >>


SUPERGLUE. Artistic research on scientific research
Gerald Nestler and Gerald Straub
VIENNA ART WEEK. November 15, 2011
METAmART. Art & Capital, Künstlerhaus Wien, Nov 11. 2011 - Feb 19. 2012



______________________________________________________________________________________________________________________________________

Recent TALKS (selection)
FORUM ALPBACH. "New Enlightenment". Financial Market Symposium.
Keynote and panel discussion with Paul Mason and Agnes Sreeissler-Führer (chair)
September 1-2, 2016
link to program >>
Radiokolleg - Die Informationsgesellschaft. Von der Macht des algorithmischen Denkens
A Radiokolleg feature by Armin Medosch >>
June 13 - 16, 2016
ISEA 16 Hongkong
Artist talk, with Sylvia Eckermann, May 20, 2017
SOCIAL GLITCH Radical aesthetics and the consequences of extreme events
and The Future of Demonstration. Festival of Post-Digital Art, Vienna 2017 + 2018
link to program >>

Die Algorithmisierung der Zukunft? Ein Gespräch über die Algorithmisierung der Finanzmärkte und ihr Risiko
Talk followed by a discussion with Gunter Dunkel (CEO of NORD/LB bank)
Kunstverein Hannover in cooperation with Basis Zwei (Pit Noack)
March 23, 2016

The Necessary Book is Substracted from Chance
Talk and Book Launch of Elie Ayache, The Medium of Contingency: An Inverse View of the Market (Pelgrave MacMillan, 2015)
Elie Ayache in conversation with Philippe Henrotte and Gerald Nestler
Musée Sursock, Beirut, March 11, 2016
Link >>>
Lectures and Debates @ New Design University St. Poelten, Austria
Lecture "Alienation. Der Preis des Lebenden Geldes," Nov 11, 2015,
Die Sprache des Geldes lecture series with Ramon Reichert, Wolfgang Harsch, Gerald Nestler, Andreas Langenohl, Peter Harold


Panel discussion with Peter Moosgaard, Gerald Nestler, Christian Stefaner-Schmid
programmed and moderated by Alexandra Reill - kanonmedia
Nov 4, 2015 @ Depot Wien
Renewable Futures conference
organized by RIXC
Riga, October 8-10, 2015
panel "Art and Technopolitics", moderated by Armin Medosch
renewablefutures.net
DAY IN DAY OUT// Störungen des Digitalen
Dresden, Sept 26-Oct 18
panels and workshops curated and moderated by Marian Kaiser

Radiokolleg zum Mitreden: Die Macht der Prognosen. Lässt sich die Zukunft berechnen?
Sept 22, 2015
audio (in German)

ISEA2015. 21st International Symposium on Electronic Art
Vancouver, Aug 14-19, 2015
isea2015.org
program


RENEGADES TRAITORS EDUCATORS. über Überläufer und Whistleblower
In the framework of the exhibition Utopian Pulse - Flares In The Darkroom
Aproject byInes Doujak and Oliver Ressler
Württembergischer Kunstverein Stuttgart, July 14, 2015 >>


On the Cultures of High-Frequency Trading, and their Regulations
International Workshop at the University of Konstanz, June 22-23, 2015.
With Christian Borch, Nathan Coombs, Ann-Christine Lange, Karin Knorr Cetina,
Alexander Laumonier, Marc Lenglet, Donald MacKenzie, Yuval Millo,
Gerald Nestler, Juan Pablo Pardo-Guerra, Alex Preda, Robert Seyfert.



A FEW REASONS FOR A NON DISMISSIVE ART.
international symposium organized by esap – escolar superior artistica de porto
Serralves Museum, Porto, Oct 26, 2014


technopolitics salon@ViennaOpen 14
Festival für Open Design, Postdigital Strategies and Open Society
Oct 18, 2014


Paris Market Seminar
organised by philosopher Jon Roffe hosted by ITO33
Paris, June 30-July 1, 2014


Quantitative Easing (for the street)
Opening address for a public art project by Axel Stockburger
curated by Muntean&Rosenblum, commissioned by kör-Kunst im öffentlichen Raum
Vienna, May 27, 2014


Banking in Crisis. The Functions and Relevance of Financial Institutes
Ö1 Radiokolleg feature by Gerhard Pretting, 2014


Artistic Research on Algorithmic Finance
Technopolitics Workshop, Vienna, Deb 27, 2014


Mayhem in Mahwah. The Case of the Flash Crash; or, Forensic Reperformance In Deep Time
Keynote at Autonomies conference, Napon – Institute for Flexible Cultures and Technologies, Novi Sad, 2013


Carry Cargo Cult
Lecture performance
What Would Thomas Bernhard Do?, Kunsthalle Vienna, May 22, 2013
Artistic Research on Algorithmic Finance
Lecture, Technopolitics Workshop, Vienna, 2014
Ad Acta - Kunst, Recht und Internet XXX
Interview, 2012 for the Radio Dispositiv interview series
by Herbert Gnaue on Orange 94.0
Online audio (German only) >>




Die Welt der Finanzindustrie - Mythen, Märkte, Mathematik

(The World of Finance - Myth, Markets, Mathematics)
A Ö1 Radiokolleg series by Armin Medosch, Dec 10-13, 2012
German introduction by Armin Medosch on The Next Layer >>
Symposium Kunst fördert Wissenschaft

Lecture, Nov 19, 2012, IDfactory, TU Dortmund, DE >>
Mapping The Commons
Paratactic Commons Conference >>
Keynote, Nov 8, 2012, Istanbul, TR
Cultural diplomacy today: between representation, soft power and transversal networks
Conference organized by the Austrian Academy of Sciences
in cooperation with the Austrian Cultural Forum New York.
Vienna, 2012




Talk series ON PURPOSE. The New Derivative Order
organized by Gerald Nestler
with Elie Ayache, Karin Knorr-Cetina (18.3.)
with Brian Holmes, Armin Medosch and members of technopolitcs research project (14.4.)
kunstraum Bernsteiner, Vienna, 2012.




FUTURE MEDIA.

Contribution to the art section of the Chinese magazine Vision magazine, 2011.
Curated by Li Zhenhua.
ISSUE upload by Li Zhenhua >>
DECLINING DEMOCRACY. Rethinking democracy between utopia and participation

Member of the scientific board (with Piroschka Dossi, Christiane Feser and Franziska Nori).
Sept 23, 2011 - Jan 22, 2012
Strozzina. Centro di Cultura contemporanea a Palazzo Strozzi, Florence, Italy
>>
Kunstforum International 200 + 201 | Art and Economy

Ppublished by Dieter Buchhart and Gerald Nestler (German only)
Issue 201 >>
Issue 200 >>


______________________________________________________________________________________________________________________________________


For collabrative projects with Sylvia Eckermann see:
http://syl-eckermann.net
______________________________________________________________________________________________________________________________________
______________________________________________________________________________________________________________________________________